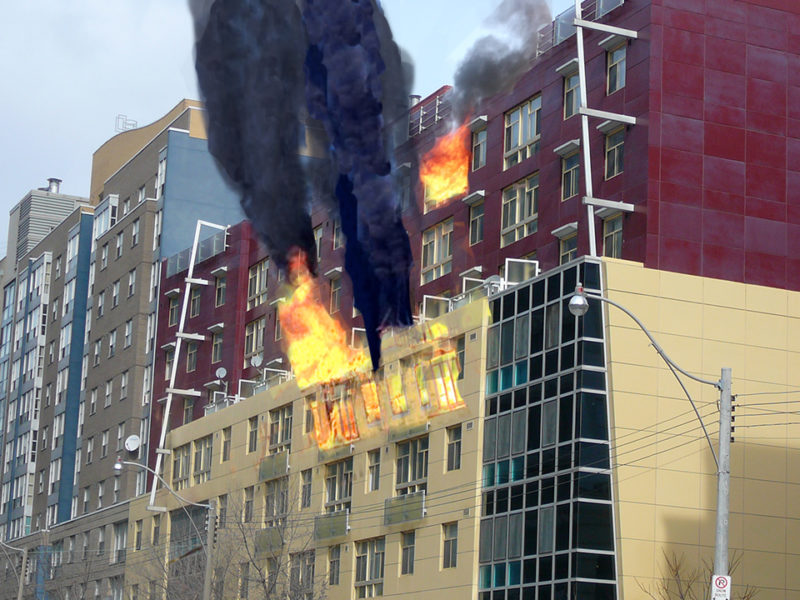 TORONTO – Fire crews continue to battle a three alarm blaze which engulfed a downtown Toronto condo shortly before being sold for $1.2 million.
The recently gutted condo boasts entirely exposed brick throughout, with 20 foot ceilings in some places. The unit is packed with extras, including heated floors, heated walls, heated ceiling, and still boasts nearly half of its original oxygen. Gaping holes offer natural light and partially smoke obstructed views of the street and neighbouring kitchen.
Originally listed as a spacious 1200 square foot unit, the description was changed to a cozy 750 square foot space by close of sale. The unique floor plan features two open concept bedrooms, open concept office, open concept kitchen, open concept bathroom, spacious open concept closets and a partially collapsed balcony for summer entertaining.
The quiet, evacuated neighbourhood has easy access to police, ambulance, and library services, and will be very close to the subway. Ample building parking can accommodate up to six visiting pumper trucks. The building offers amenities such as a media room, 24 hour front desk, and a soon-to-be-updated sprinkler system.
"This was a motivated sale," said real estate agent Shelly Palmer, whose listings also include a collapsing asbestos factory, an uptown hovel made entirely of lead paint, and several luxury dumpsters.
Toronto Fire Services describe the blaze as "controlled, but continuing" and as of press time the condo has been re-listed as a 450 square foot breezy bachelor for $1.6 million.