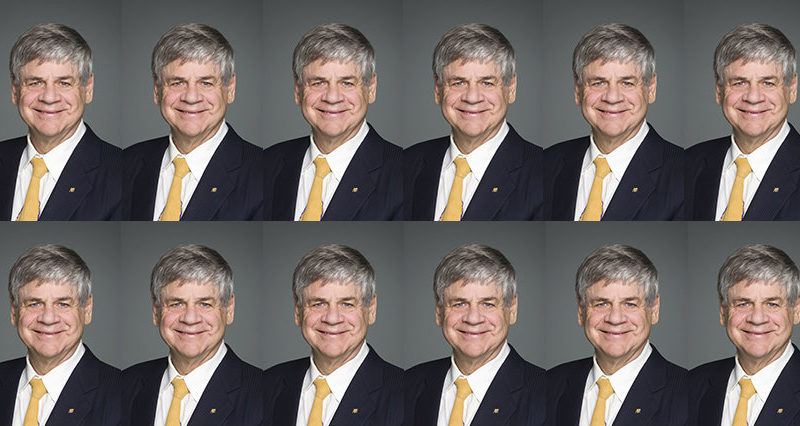 WHITEHORSE – Being an MP from a distant riding can be an exhausting exercise, but Larry Bagnell has help from 12 identical copies thanks to new advancements in Parliamentarian genetics.
The Bagnell clones are often seen at community events, birthday parties, and at home with his family in Whitehorse, while others are participating in debates, committees, and at caucus meetings in Ottawa.
"It's a real pleasure to serve my constituents and all of Canadians," said Bagnell Clone IV while shaking hands and conversing with people at the Kwanlin Dun Cultural Centre. "I think it's great to have the community out here today and really reflects its diversity."
For three years, scientists at Replacement Technologies worked hard to develop an identical replica of the 66-year-old man. He had to be competent at public speaking, cutting ceremonial ribbons, and flipping hamburgers at charitable BBQs throughout the Yukon. Despite a few genetic mishaps which involved combining the MP's DNA with an arctic ground squirrel, 12 new Larrys were ready to be where the MP couldn't.
Therefore, it came as no surprise when the representative from the Yukon was voted as the best Constituency MP among all of his peers in Ottawa. "I'm quite flattered to be given the honour," explained the actual Larry calling from Dawson attending a small public library meeting.
There were some rumours that there had been a thirteenth clone, but the copies refused to comment on what many in the public believe to be wild speculation.
"I have no comment," explained Bagnell Clone X before kissing a baby. "We're here to give the people of Yukon a voice in Parliament."
At press time, a disheveled Bagnell clone emerged from Yukon's frozen wilderness claiming that he was the real Larry Bagnell and screaming that the clones must be stopped before it's too late.