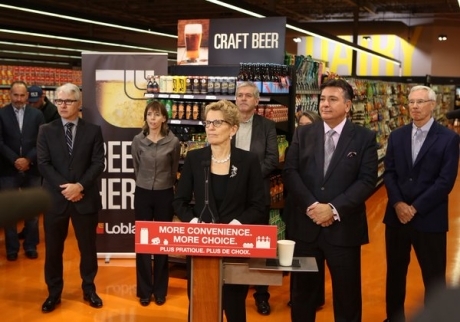 ONTARIO – In an attempt to ensure a new cash flow for the provincial government, Premier Kathleen Wynne has implemented a new policy forcing Ontarians to have two alcoholic beverages at all times.
"Since all drink purchases will go through the LCBO at some point, this new policy will make billions for the province," said Wynne. "That's money that we can use to improve infrastructure and create jobs."
"The fringe benefit is that alcohol seems to make people forget about the Hydro One sale, P3 hospitals, and pretty much everything else," added the Premier.
Visitors will also be expected to conform to the law. At the border, non-residents will be given a short cocktail menu from which they must choose a drink containing at least of 2 shots of 80 proof liquor. If this doesn't appeal, they may instead choose to get a pint of beer, only $3 when purchased with a pound of wings, or a glass of the house red.
"The minimum is there for your benefit," said Wynne, sipping an Old Fashioned. "Timmins is a lot more fun with a bit of a buzz going."
Most Ontarians view the loosening up legislation as the long-awaited legal acknowledgment of every human being's right to party.
"I'm six deep right now, baby!" said Dr. Peter Morris, while performing an appendectomy. "It's a minimum not a maximum! Woooooo!"
Critics of the bill have pointed to the financial burden that would be placed on the healthcare system due to an expected rise in drunk driving. However, experts say that the concern is unfounded.
"Listen, drunk driving isn't going to be a problem. Think about it: when everyone is drunk, no one is drunk," said OPP commissioner Vince Hawkes. "That'll make more sense after your fourth highball."
At press time, Kathleen Wynne had introduced a weekly "Ladies Night" after being informed the province was at risk of becoming a total sausage fest.