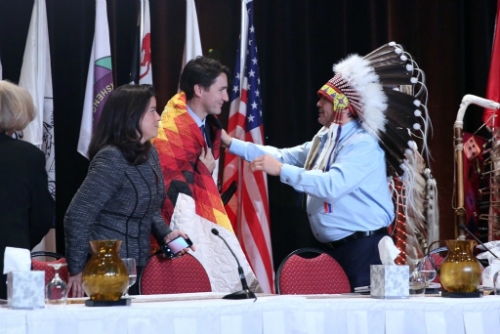 OTTAWA — Interim Conservative leader Rona Ambrose and her MPs are demanding to know how the Liberal government will be able to afford treating indigenous people of Canada with human dignity and respect.
"Mr. Speaker, human decency comes at a high price," Ambrose declared to the House of Commons during Question Period. "Promises upon promises were made by the Prime Minister during the election campaign, but this is one the country can't afford. The previous government couldn't afford to give any basic recognition to First Nations rights so why should we start now?"
Conservative MPs joined in the chorus of criticism against Liberal Prime Minister Justin Trudeau's plan for a new relationship based on "costly" appreciation, "expensive" acknowledgement of indigenous lands and "extravagant" basic human rights.
"Why should we mortgage our children's respect to recognize the rights of Aboriginal children to go to school?" asked Conservative MP Jason Kenney. "Our priority was ensuring the budget was balanced, the national debt was written off and Canada won a few more Olympic gold medals in hockey before we contributed any sense of decency towards indigenous communities."
Tory parliamentarians expressed concerns about the rights of isolated reserves accessing life sustaining resources such as water and having a standard of living slightly higher than Angola.
"How will large oil corporations feel when First Nation's consent is required for pipeline projects?" asked another MP, Candice Bergen. "Consent is selling at a premium right now. We can't punish our job creators by taking away their respect and giving it to someone else."
In related news, Conservative commentator Ezra Levant was tweeting about how expensive truth would be if an inquiry for missing and murdered indigenous women were launched.
With files from James Bunting and Luke Gordon Field