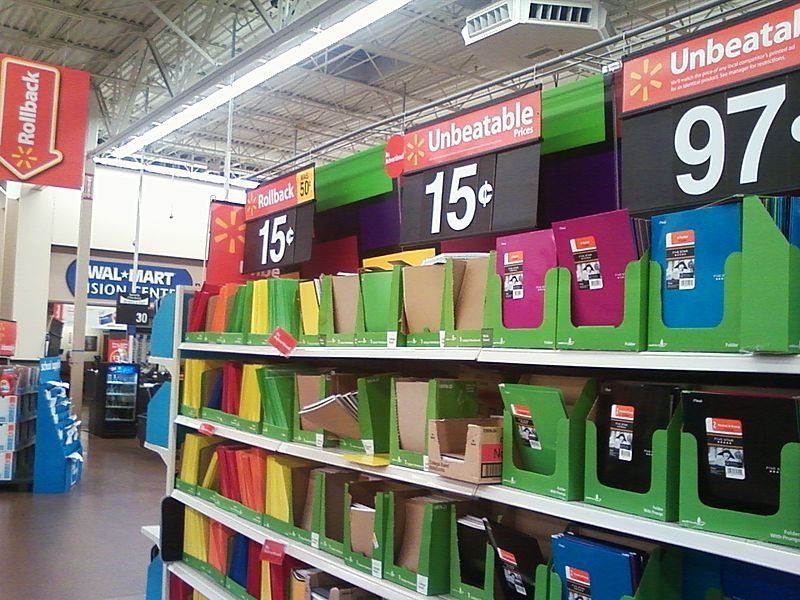 BENTONVILLE, ARKANSAS – In an effort to engage consumers, Wal-Mart has begun advertising rollbacks in employee health benefits and wages in their weekly flyers.
"At Walmart, our associates pride themselves on serving the customer, whether by helping them carry a new flatscreen TV out to their truck, or by having their health benefits slashed to keep costs low," said S. Robson Walton, Chairman of Wal-Mart Stores Inc. "For years we attempted to minimize this aspect of our business model, but then we figured 'as long as it's lowering prices, why not flaunt it?'"
The new Wal-Mart flyers have circulated in newspapers and online this past month, touting "Rollbacks" like "4 piece patio sets as low as $149 (was $298)", and "part time employees often work 40 hours per week with no benefits". Other Rollbacks advertised include "Wal-Mart stores where unions form will be shut down", "Worker schedules will be manipulated to keep them under 33 hour/week average benefit threshold", and "Big Bang Theory DVD sets, 2 for $15!"
Speaking to customers at a St. Louis Walmart, the new worker-rollback advertising strategy seems to be working. "If someone loses benefit coverage for their spouse, that's sad, but if that means I can buy an elliptical machine for 46% off, that's good. That's the beauty of Capitalism," said Brenda Gorman, a longtime Wal-Mart customer, as she perused frozen pizzas.
Clive Bricken, another loyal Walmart customer, chimed in. "I don't get no benefits laying highway tar, why should they?" Bricken then demanded a Wal-Mart associate show him where to purchase bulk Tylenol for the headaches he always seems to have.
Doug McMillon, V.P. of sales, acknowledged that Wal-Mart's original cost-cutting plan was to roll back standards and safety protocols for their overseas labour force. However that plan was quickly cancelled when "we realized we didn't have any in the first place."
Reached for comment, Wal-Mart associate Jimmy Burkett only stared blankly at the large smiley face on the wall, which he could have sworn was laughing right at him.