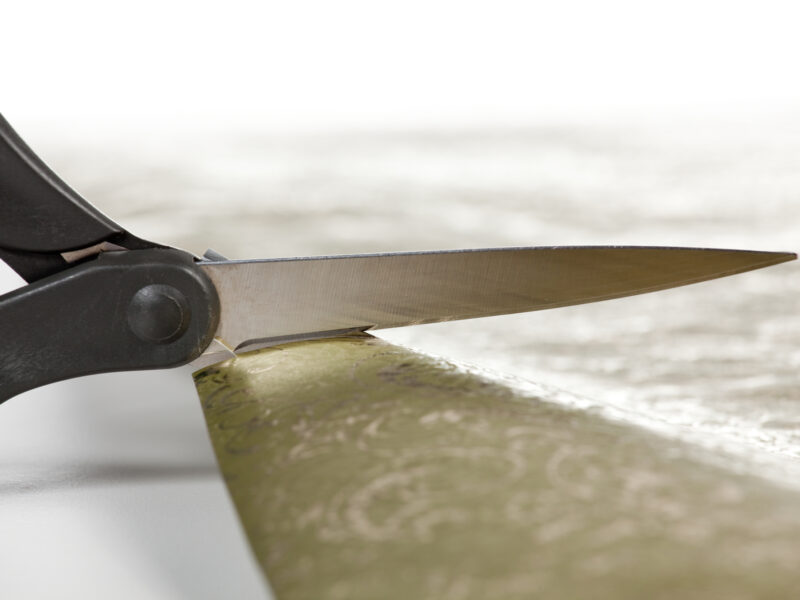 St. Catharines, ON – In a groundbreaking study by Brock University, researchers have identified the long-awaited cure for seasonal depression: the sweet, sweet satisfaction of gliding a sharp pair of scissors across a roll of holiday wrapping paper.
"We observed that wrapping paper scissor glides immediately eliminated all symptoms," explained lead researcher Dr. Thomas Evans. "That included fatigue, insomnia, and even rewatching Friends for the tenth time." 
Study participants instead reported experiencing feelings of euphoria, drooling or foaming at the mouth, and hallucinations. 
"I saw God," said one participant, "and Santa!"
The ten-year study explored many treatments for seasonal depression, including popping bubble wrap and peeling dried glue from one's hands, but nothing came close to the impact of wrapping paper scissor glides – which raised serotonin levels by over 3000%. 
"That's almost concerningly high for serotonin because it actually borders on derangement," said Dr, Evans. "We've previously only seen such levels in golden retrievers, Mickey Mouse, and Richard Simmons."
Despite these astounding findings, critics of the study have pointed out that seasonal depression immediately returned if the scissors caught and tore into the paper.
"Yeah that's true, three participants wanted to end it all when that happened," explained Dr. Evans. "And by that, I mean end their role in the study. Sorry, I shouldn't have paused."
In the new year, an upcoming study will explore if there's a link between gingerbread house building and explosive rage disorder. "It's like, how is icing a suitable bonding agent?!" shouted Dr. Evans "I dare the makers of those gingerbread house kits to try and hold the roof together, I DARE THEM!" 
Dr. Evans maintains he has no personal bias in his research.