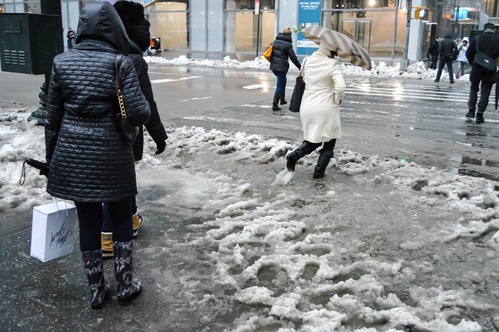 Every downtown pedestrian knows what it feels like to get caught in the rain without an umbrella. With so many options available, we've narrowed down the best retail doorways to huddle in, so you won't find yourself high and dry in unpredictable weather!
5. Top Tourist Choice: Adorable Cafe in the Big City
Live out your Hallmark movie meet-cute fantasy in the doorway of the most adorable coffee shop you can find. This should be your go-to rain shelter if it's also a cupcake shop and you are the owner and professional cupcake decorator, and the unbelievably handsome man standing next to you is the heir to an evil corporate cupcake conglomerate who is trying to run you out of business. Pick out an engagement ring, and make sure the movie of your life is directed by Nancy Meyers.

4. Go Classic! Urine Saturated Concrete Emergency Exit
While not technically a retail location, this classic location is on our list for its simplicity and convenience. It's the best place to take some time out and reflect on your life choices while sobbing and clutching a wet, inside out umbrella while you hope the thick layer of filth and human excrement below your feet doesn't seep through your shoes. Ideal for the minutes or hours immediately following a breakup, getting fired, or having your car stolen on an extra bad day.

3. Vegan Pick: Fruit Stand Canopy with Rip in Fabric
If you like having a stream of icy water pour unexpectedly down your back, then a fruit stand canopy is the spot for you! Enjoy the illusion of keeping dry while you dig into the recesses of your high school physics classes in an attempt to calculate where the water pooling on the sagging canvas above your head is about to flow next. Also, organic cherries are on sale!

2. Social butterfly? Head for the Dollarama Stairwell
By far the most popular downtown location for rain-shelter enthusiasts, the Dollarama stairwell is the place to see and be seen. You will enjoy this spot if you like standing awkwardly in a group of five to 20 shoppers desperate to get home, trapped by a downpour, all sharing the common goal of crossing the street and catch the streetcar but unable to bring themselves to step out into the street. A major advantage to this location is that they sell umbrellas. The disadvantage however is that they sell Dollarama umbrellas.
1. For the budget savvy pedestrian: The bank
The bank is our all around top choice of last minute rain shelter between the hours of 10am-4pm Monday – Friday except on stat holidays and birth dates of 200 year old royalty.  If the ATM lobby is too full of budget savvy pedestrians, you can always go inside and say you want to open an RRSP. Don't buy any mutual funds with an MER over 0.75% and you're good to go!