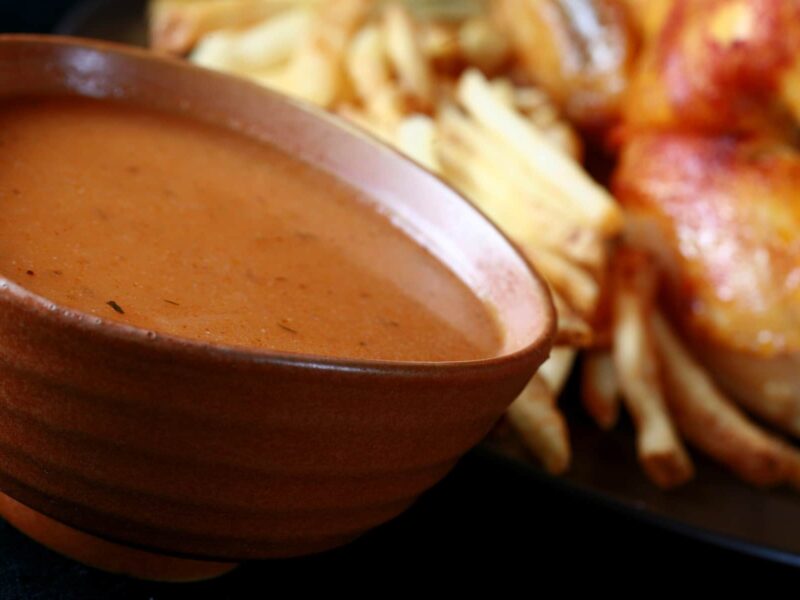 TORONTO – Recipe Unlimited Corporation, the owners of Swiss Chalet, have announced a collaboration with sex accessories corporation Durex that will finally see the release of Chalet Sauce flavoured lube.
"A good flavoured lube can spice up foreplay and oral sex," said Durex spokesperson Olivia Kirkman. "And now in addition to flavours like passionfruit or Chocolate Raspberry Canadians looking to get it on can enjoy the same tangy, savoury taste that has been seasoning our rotisserie chickens for years."
"Just as Chalet Sauce has added a bit of zest to your Quarter Chicken With Fries combo, now it can add some zest to Date Night!"
The lube will come in a 240ml tube, but will still have that tight plastic seal that Chalet Sauce lovers know so well. Once that is removed users are advised to apply the brown sauce liberally to desired areas, and not to try to dip the genitals in the sauce the way they would with a white roll.
"The lube was a bit thicker consistency wise than other flavoured lubes I used in the past," said one recent purchaser. "But it did taste good. So much so that after a few minutes we just kind of abandoned the sex and ordered some Swiss delivery in."
"It was definitely better than the Pizza Pizza Creamy Garlic dipping sauce flavoured lube I bought last year."
In related news Adam & Eve and Tim Hortons are announcing their collaboration on a butt plug shaped liked a Double Double coffee cup.