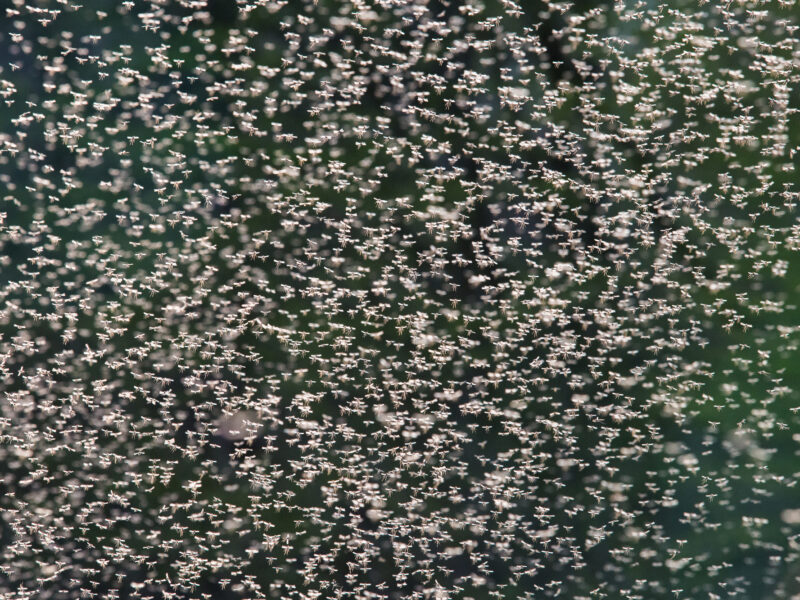 TORONTO, ON – After a long winter, local man Jonathan Pearce was looking forward to welcoming the spring weather yesterday with a celebratory bike ride on the Waterfront Trail. His excitement for the season was however immediately crushed when he careened through a gnat cloud and swallowed hundreds of tiny, flying insects. 
"I was in shock," explains Pearce, who does in fact experience this exact scenario every spring. "I had completely forgotten about those stupid bugs until they flew right into my windpipe and eyeballs."
While attempting to fight off gnat cloud after gnat cloud through a combination of hand waving, aggressive blinking, and dry-heaving, Pearce lost control of his bike and crashed into a picnicking family.
"It was so gnarly!" said one of the gnat cloud leaders, Jared Midge. "I mean we were just stoked to get out by the water, mingle, irk some humes [gnat slang for "humans"], but derailing a cyclist is always a special thrill. Spring rocks!"
Midge shared that he and his fellow gnats plan to spend their days crowding around any and every location that humans were hoping to find enjoyment, and their nights by a preferred light source. "Porch lights are lit! Literally and figuratively," explained Midge. 
"I couldn't wait for spring," Pearce wistfully recalled while picking gnat carcasses from his teeth. "But I'm starting to think I romanticized it."
On the topic of romance, Sarah Collins, a representative from the Royal Ontario Museum's "Totally Bugs!" exhibit, explained the reason behind gnat clouds. "Gnats actually create swarms because they are mating, and quite furiously, too."  
When asked for a follow up comment, Pearce cried "Why would you tell me that?!"
After destroying the picnic and all sense of hope for weather enjoyment, Pearce went home, resolving to wait it out until August for the more palatable bee season.