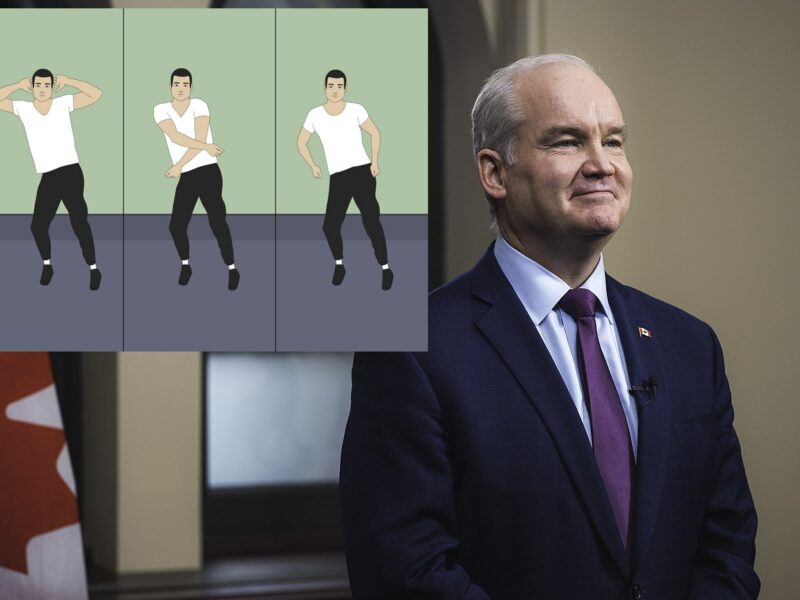 BOWMANVILLE- With polling stations across the country hours from closing and Conservatives desperate for votes, Erin O'Toole's aides were spotted earlier today frantically trying to appeal to Gen-Z voters by teaching him The Renegade.
"When it comes to campaigning on Tik Tok, Jagmeet is winning in a walk," said social media strategist McKayla Sweeny. "If the Conservative party has any shot of appealing to younger voters, they've got to work overtime to do the impossible: make Erin O'Toole seem hip and cool"
According to sources close to the campaign, attempts at the WAP dance were quickly squashed due to disturbing visuals. Efforts then shifted towards focusing on the simple, waist-up routine, which is also now proving disastrous.
"Teaching Erin how to body roll is the worst thing that has ever happened in this office," said aide/impromptu choreographer Spencer Dumphy, "and last year we all had COVID."
Other aides have echoed this sentiment, claiming even the most basic choreography has proved difficult with the team of advisors purportedly spending countless crucial hours preparing the politician for the seven second video. Now, they're down to the wire.
"We keep telling him to 'coyly smile' during the dance, but no matter what it always looks like his jaw has been wired shut," added Tik Tok consultant Brittney Fellows, 21. "And he keeps ending the video by telling people to visit his 'geocity'- no one knows what that is and time is running out!"
"His claps are way off beat and don't even get me started on his dab," added assistant Chase Harrison. "We should have just stuck with something that's simple and has proven virality – like if he were to sort of scrunch his nose and shake his head to a Backyardigans sound effect while wearing a single dangly earring"
Many insiders close to the campaign also revealed attempts were made to teach O'Toole a Sea Chanty, assuming his Irish heritage would guarantee success, but his voice somehow became even more nasally when he sang.
At press time aides had abandoned all efforts to do the complicated Renegade dance and instead were frantically trying to teach O'Toole the choreography to the "Chopping Dance" while answering frequently asked questions such as 'what is it like to be 48 but look 84?"