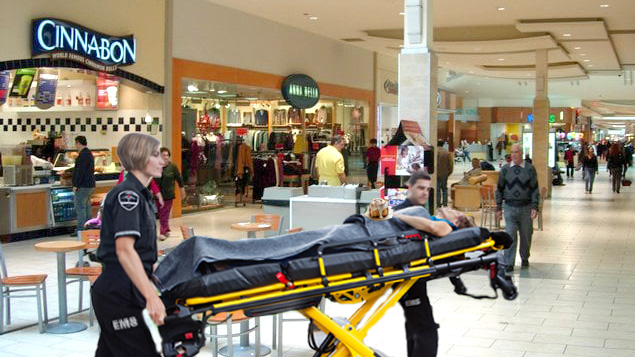 TORONTO – Emergency crews rushed to the Dufferin Mall earlier today in response to reports that nearly two dozen mall patrons had succumbed to fumes emitted by the shopping centre's Cinnabon, resulting in devastating mass-gorging on sticky, glutenous pastries.
All of the twenty-three victims have reportedly fallen into a deep food-coma and are expected to feel stuffed and sluggish for much of the rest of the day.
"I've never seen anything like this," said paramedic Mike Delaware, part of the initial crew of first responders who arrived on the scene. "Hands, mouths, clothing, all just completely covered in frosting."
The cause is still unknown, but investigators say the distinct smell began emanating from the Cinnabon ovens hours earlier. Witnesses report that once patrons were exposed to the fumes, there was no chance for anyone to get out before losing their ability to cease shovelling sugary confections down their throats.
"When we entered, one of my colleagues had a leak in her mask," said Fire Chief Carry Shapiro, from Station 345. "Before any of us realized what was happening, she'd finished off a caramel pecan pastry. She's recovering now but we're worried she may never regain her appetite before dinner."
"He completely lost all willpower," said mall patron Nicola Freeman, who watched helplessly as her husband was overcome by the cinnamon-laced gasses that permeated the northern wing of the mall. "There was nothing I could do to stop him from buying half a dozen frosted cinnamon rolls. He never even made it through the fourth one before collapsing," she added between bites of the remaining buns.
"We've seen a number of cases like this recently," said Toronto Western Hospital's Dr. Alex Churchill. "Without proper ventilation, fumes from any sticky bun bakery can easily overpower anyone in a hundred metre radius. We've had a massive uptick in the last four months of patients reporting violent sugar crashes as well as severe guilt."
Authorities are investigating the possibility that the fumes were deliberately released into the mall, but will not speculate as to who might have anything to gain from such large scale exposure.
At press time, fifteen additional mall patrons claimed to be "dying of thirst" after being seized by popcorn fumes from the nearby Kernels.
Images via Mike B (Tripadvisor)/Depositphotos