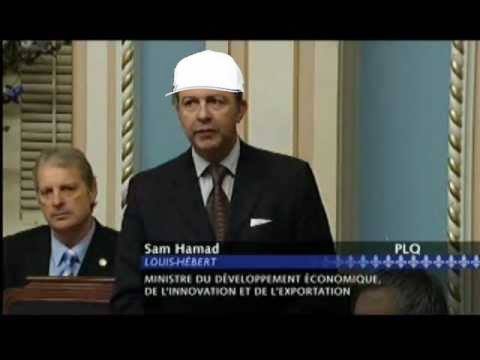 QUEBEC CITY — In his resignation as Treasury Board president, Quebec Liberal MNA Sam Hamad replied to claims he went to Florida to escape an ethics probe, telling reporters "my honor is as true as my golf swing."
Following a Radio-Canada investigation into Hamad's relationship with a disgraced former fundraiser, the Quebec Liberal Party veteran told reporters, Tuesday, that he had traveled to Fort-Lauderdale with his wife and German Sheppards to, "refuel on integrity" and to take part in an annual PLQ anti-corruption golf tournament.
"Though I step down from my cabinet post, I maintain that I have at no point done anything wrong," a tanned Hamad told reporters before dusting some dirt off his cleats. Hamad remains an MNA despite stepping down from his cabinet position. He relinquishes his $68,000 salary bonus, chauffeur and has to hand in his gun.
The provincial Liberals have been plagued by a number of scandals recently including the arrest of a former deputy premier and ongoing investigations into campaign contributions. At a recent press conference, PQ leader Pierre Karl Péladeau argued that Liberal corruption was also responsible for the purchase of Quebec's beloved St. Hubert restaurant chain and the continued poor performance of the Montreal Canadiens.
In response to Sam Hamad's resignation, Premier Phillipe Couillard told members of the press that Hamad was an "honorable man," adding that he was also "one hell of a golfer."