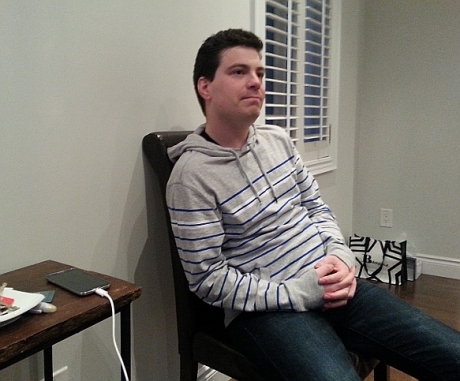 TIMMINS, ON – A local man seeks a muse worthy of epic poetry, despite his average face and mildly boring disposition.
Jordan Ronson, an insurance adjuster in his 30s, posted a profile on OkCupid after realizing how hard it was for him to approach smoking hot women in-person.
According to his profile, Ronson is 5'9", agnostic, and "likes to jog."  A lover of literature, his favourite book is The Da Vinci Code— though he believes the movie was "just okay."
"Internet dating's a real blessing for nice guys who just can't catch a break!" Ronson beamed over his meal of toast and small carrots, "With an online profile I can put my best foot forward to get the woman I deserve: Tall, blonde, beautiful, smart, well-read, athletic, a baseball fan, a Battlestar aficionado, a fan of sixteenth century poetry, and stacked like a game of Jenga!"
Following his profile going live, Ronson was matched with twenty women—only one of whom came close to meeting his criteria.
When reached for comment after the fact, Ronson admitted he was confused about why an Aphrodite-esque neuroscientist wouldn't fall in love with him.
"It's this city that's the problem. Women here just want too much," Ronson grumbled as he dismissed a lawyer, masters' student, and Beyonce.