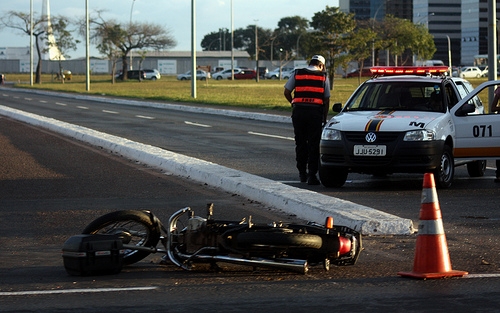 Although divorced and in his late forties, local man James Baucher has managed to avoid a midlife crisis by becoming involved in a severe motorcycle accident.
"He was really hasty and desperate to learn how to ride that new Harley," said Baucher's son, Jake. "He kept using the word cruisin' when he talked about it. I guess that tractor-trailer did both of us a favour."
The police report indicates that Baucher's ability to swerve out of the way was compromised by the giant, newly-purchased windsurfing board that was strapped to the back of the motorcycle.
"We think Baucher was also distracted from the road by the pain from his new tattoo," said constable Heidi Willarts, 46, who had just realized that she was never going to get that promotion she wanted. "This new leather jacket he was wearing is pretty sick though. I think it could be a good update for my wardrobe."
Baucher is survived by his ex-wife, his son, and by his new 25-year-old girlfriend, Cortni.