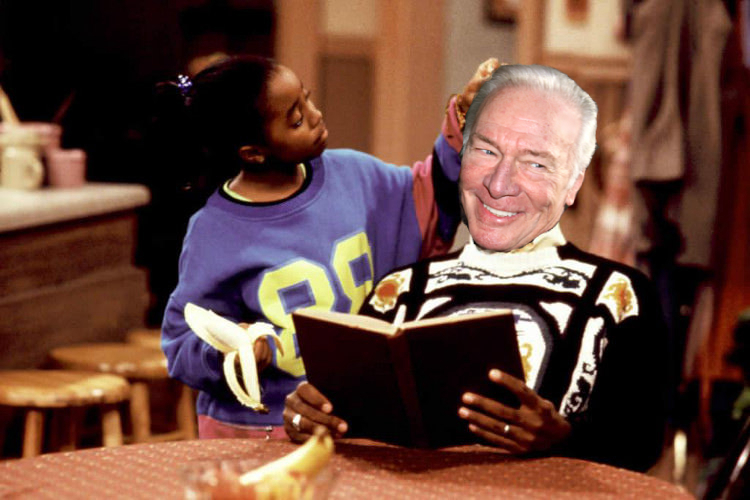 HOLLYWOOD — In the wake of Bill Cosby's conviction on three counts of sexual assault, Carsey-Werner Productions has announced that reruns of The Cosby Show will be digitally altered to replace the former TV icon with veteran actor Christopher Plummer.
"We don't want modern viewers of The Cosby Show to be put off by the revelation that 'America's Dad' sexually assaulted a woman, and let's face it, dozens more women," explained former executive producer Marcy Carsey. "Really, digitally re-inserting Christopher Plummer was our best option."
Following today's verdict, handed down in a Norristown, PA courtroom, producers acted quickly to replace Cosby and preserve the rerun episodes' viability. Plummer will immediately set to work replacing the disgraced star in all 201 episodes of the groundbreaking series, as well as any episodes where Cliff Huxtable showed up to visit Denise on A Different World.
Plummer comes fresh from his Oscar-nominated performance in All The Money In The World, where he similarly replaced scandal-plagued actor Kevin Spacey, and reportedly leapt at the chance to play Cliff Huxtable. "It seems that I've become Hollywood's go-to man to replace sexual predators," explained Plummer. "And trust me, in the wake of the #MeToo movement, business is booming."
"Though make no mistake," Plummer insisted. "I am eager to delve into the role of an affluent Black obstetrician in 1980's Brooklyn."
NBC's The Cosby Show received both critical and audience acclaim for its aspirational portrayal of an upper-middle class African American family. Asked whether replacing the lead character with an 88-year-old caucasian actor would undermine this, Carsey admitted, "Look, these reruns were supposed to be my retirement fund, and people aren't going to watch them if they have a convicted rapist in every scene."
The retired producer added, "Plummer just seems to have a knack for this, so get off my case."
Some of the first digitally altered Cosby Show episodes will feature: Christopher Plummer leading a lip-sync performance of Ray Charles' "Night Time Is The Right Time"; Plummer extolling the virtues of historically black universities; and Plummer relating to son Theo his experiences at the 1963 March On Washington.
Asked where this new period of his career will take him next, Plummer seemed enthusiastic. "I'm quite looking forward to my next gig; replacing former teenage actress and sex cult ringleader Allison Mack in all 218 episodes of Smallville."
"After that I'll be re-recording all of the vocals to R. Kelly's 2003 album 'Chocolate Factory'," the 88-year-old said, donning a bandana and leather pants.