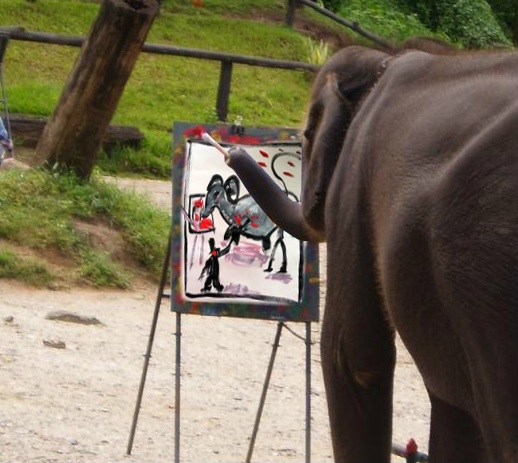 BANGKOK – A three year old Asian elephant named Mai-Mai has created several abstract paintings portraying his abuse by zoo keepers who forced the gentle giant to paint to entertain tourists.
"It's truly amazing to see these intelligent creatures be creative," said British tourist Fanny Lexington, unaware that Mai-Mai was repeatedly whipped to paint the portrait she was admiring. "He does a great self-portrait of himself painting with zookeepers around him holding lassos and bamboo sticks, though I'm not sure why there's so much red paint."
Mai-Mai has also used his artistry to illustrate his physical abuse, isolation and forced labour that has even amazed some of his most cruel tormentors.
"Mai-Mai is a very special elephant," said zookeeper Santi Ganokpon who captured and sold Mai-Mai's family to a Burmese ivory dealer. "He has painted all of the zookeepers in a morbid and dark way. I imagine he was inspired by Picasso's Blue Period for many of his works."
At press time, Mai-Mai was completing a work describing the utter humiliation and defeat he feels when tourists get on his back for a ride around the compound.