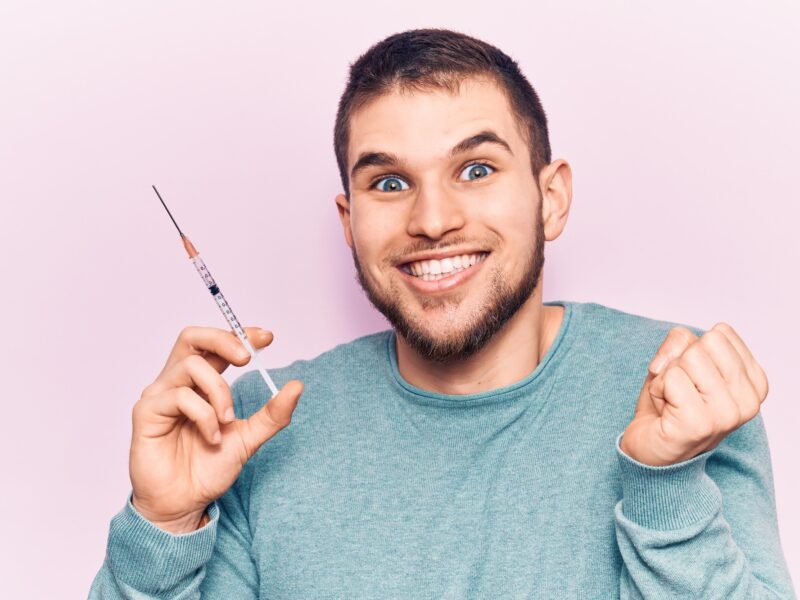 Hey there! Beaverton intern Alex Barnes here! Thanks to the Beaverton, I recently got the chance to try ALL the hot new COVID-19 vaccines in one WILD afternoon (don't try this at home, y'all, I'm a professional intern), and I can't wait to give you the LOWDOWN on which vaxes are WACK and which ones STACK!
Moderna
This is the vax that Kamala Harris got which is so sick! It's a two doser, but I took the two doses one after the other and I feel great! Didn't really hurt my arm all that much! If anything the experience was TOO BLAND! Nonetheless, I'm pretty sure I don't have COVID so I'm gonna say this one TRACKS!
Pfizer-BioNtech
Another double doser! This one is stored in a supercold fridge so it came out SUPER STEAMY which is VERY COOL! I know my arm doesn't have taste buds but I felt like this one tasted better? I gots ta give it up for the P-B vax, because just like peanut butter, this vaccine SMACKS!
Oxford-AstraZeneca
Uh oh! This one's been in the news for maybe giving blood clots to some DANISH PEOPLE or maybe AUSTRIANS. I didn't get any blood clots that I'm aware of, but I do know that after getting three vaccines in 15 minutes I'm KIND OF WOOZY! For that reason I'm going to say this vaccine is JUST OKAY!
Johnson & Johnson
I like my vaccines like I like my booze! All in one shot! Oh yeah! I have been loyal to Johnson & Johnson since their shampoo didn't make me cry when I was a kid! The J&J is here to stay, baby! I LOVE THIS VACCINE! I MAY BE EXPERIENCING SOME KIND OF MANIA!
Sputnik V
I took Sputnik V and I'm feeling alive! Barely! Not feeling very good. Lying down for a bit. Don't like myself or my body rn. For that reason I'm going to say the Sputnik V is both wack and hack. Sorry, I mean WACK AND HACK!!! *cough* Ugh.
Coronavac
Very sick now! If you see my mom, tell her I really appreciate all those times she brought my lunch to school when I forgot it on the counter. Pretty sure I won't make it if I take another vaccine. My editor at the Beaverton said if I did this article, they'd consider paying me, which is great because I have a family to support. On the other hand, it's going to be sad for my kids to grow up without… well never mind.
Covaxin
This one is QUAX! Oh God, what does that mean?
Convedicia
STAcks
RBD-Dimer
….X