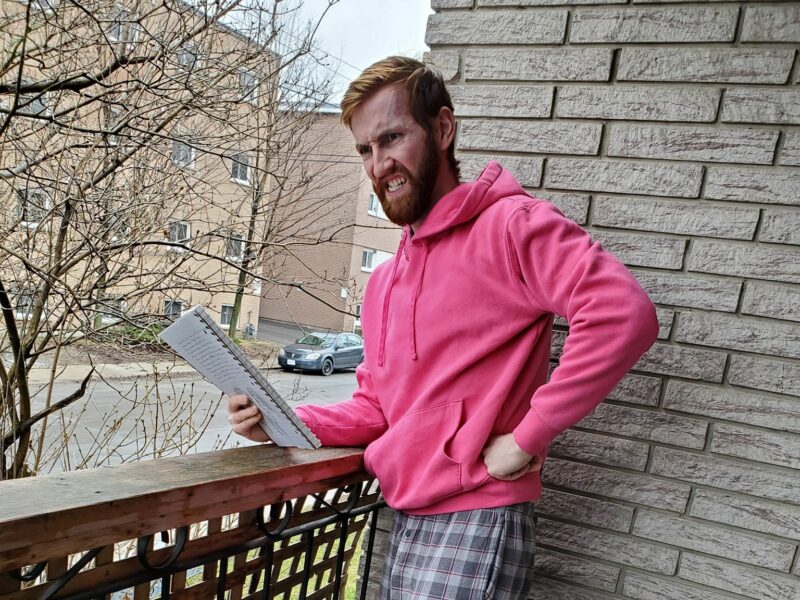 TORONTO – After witnessing the popularity achieved by a group of locked down Italians singing in unison on their balconies a couple of weeks ago, a gang of Canadians assembled to try to sing 'One Week' by Barenaked Ladies with little success.
"I was so moved by the spirit of unity I saw in that, excuse my pun – viral video, that I immediately called the condo manager of the building across from mine to set up our own Canadiana version!" gushed student Samuel Chisamore from self-isolation.
The group amassed on their respective balconies at around 6 pm last night and began screaming the lyrics at each other.
"There was so much going against us," sighed Laci Coldstrop, a recently laid-off server. "It was really hard to hear the other people so no one started singing at the same time. Oh and after the first line of the song, most of us just mumbled until we got to 'Chinese chicken,' then we just struggled through again."
"There was one guy across the balcony from mine who seemed a little too intense about it. Like he knew the lyrics too well, if that makes sense? Unnerving."
The tenants of the two condominiums had gone back and forth over which song to sing together over the past week.
"We tossed around the names of a couple other musicians before settling on Barenaked Ladies," reported Leyla Barzani, a payroll accountant working from home. "Gordon Lightfoot, Celine, Alanis Morissette, Drake, the Hip, and so on. Ultimately we wanted to do 'One Week' as a sort of fun nostalgic challenge! How naive we were to think that this kind of teamwork could ever be fun!"
However, the gang of balcony-bound singers is planning on assembling every night to work their way through Barenaked Ladies' 12 studio album discography, even if the COVID-19 quarantine ends.