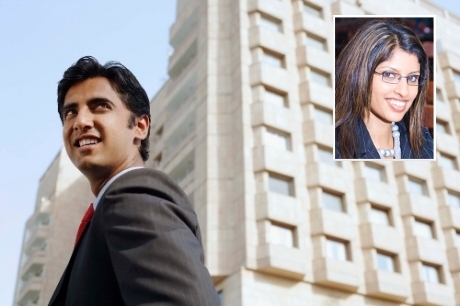 TORONTO – Private equity firm employee Praj Patel, 31, is in merger talks with airline stewardess Aneesha Sherawat, 27, a woman.
If successful, the deal could lead to a 60% increase in cohabitation, holding hands and kissing, with trickle-down benefits for the local economy from shared nights on the town, sources from within the Patel and Sherawat families revealed over the weekend.
The discussions, aiming largely at cutting down on transportation costs associated with visiting Sherawat at her apartment in Montreal, were initiated two weeks ago by members of the Sherawat family, though could fizzle if the terms of the merger are not made satisfactory to the Patel family, the sources said.
"We like Praj. He's a good man and boyfriend, but sometimes we worry that he's involved in things like insider trading," said a spokesperson from the Sherawat family. "Aneesha tells us that he still negotiates with his former business partners a lot, which could mean big trouble for this partnership."
But members of the Sherawat family are also stressing the benefits of the merger. "Between shared apartment expenses and unified cable, internet, and phone bills, this merger is slated to save the Sherawat family up to $2000 a month," a statement read.
Additionally, Sherawat's job will allow Patel to enjoy discounted flights once the merger is complete, just one of the many fringe benefits the Sherawat family have been emphasizing during the talks. Patel will allegedly also be entitled to additional pre-flight snacks and bonus legroom, as well as access to a very private VIP lounge for pre-flight business meetings with Sherawat.
Some in the Patel camp say the proposed merger details still need ironing out. "The talks are not yet in advanced stages and could end at any time," a member of the Patel family told reporters.
Patel is remaining cautious. He has spent the last 48 hours reviewing Sherawat's files to ensure that her books are in good order.
"So far things are looking good," said Patel. "From what I've seen, Sherawat is a sound investment. Still, I'd like to spend more time reviewing all of her assets before I go commit to anything."
This is not the first time Patel has tried to merge with a woman. In 2005, a deal between him and his then secretary, Martha Jabbs, fell through on opposition from Jabbs to allow Patel to move beyond second base without further investing in dinners, movies, and visits to the lake.
Some analysts are skeptical of Patel's claim that the proposed merger will not cramp his style, as Patel is known to require his personal space.
Sherawat has already tried unsuccessfully to make changes to Patel's apartment, as well as to get him to spend more time with her on the phone. Patel countered with equally poor success with a request for Sherawat to enter into simultaneous talks with him and his ex-girlfriend, Sandy Corrigan, who's "totally into experimenting" with innovative new business models, according to Patel.
Many have also noted Patel's tendency to entertain talks of mergers with multiple women at the same time, which could jeopardize the deal with Sherawat.
"Aneesha really knows travel," Patel said, "but I'm a business man. I think she's being a little shortsighted. Most businesses can't survive alone in today's competitive economy. You need to get creative with the business models you enter and the staff positions you fill. A diverse workforce of independent contractors is sometimes a better way to go. Putting all of your eggs in one basket doesn't work in investing; it doesn't work with relationships either."
Antitrust issues will likely play a factor in Sherawat's willingness to cede on certain requirements set forth by her family, as many in the Sherawat family believe Patel to be insincere when it comes to relationships.
Relationship industry consultant John Hampton said that the talks may well be geared to getting Patel to focus on one merger and making it work, as opposed to constantly seeking out new mergers with little real intention of following through with the deals.
"You get some guys out there who'll attempt to entertain merger talks with one entity to get the attention of another, usually more attractive entity," Hampton said. "This strategy hasn't been working for Patel."
Given the amount of assets already invested in this latest effort, and Patel's recent string of failed merger attempts with other females extending over the past 6 months, Patel has not yet ruled out the possibility of a hostile takeover as a last resort.